European Collision Center
By California State Law You Have a Choice.
Choose Mercedes Benz Certified European Collision Center,
 the only Mercedes-Benz Certified Body Shop in San Francisco.
 Our Obsession In Quality and Service!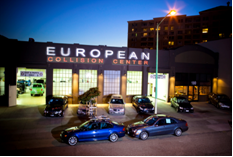 ·         Genuine Mercedes-Benz Parts
·         Factory Trained Technicians
·         Mercedes-Benz Certified Equipment & Materials
·         SMART Center Body Shop
·         Only Mercedes Certified Body Shop in San Francisco
·         Lifetime Warranty on All Repairs
We know you have a choice and we appreciate the opportunity to earn your business.
We may not be on your insurance company's "preferred" body shop list but there are few other lists that we are even more proud of.
Mercedes-Benz of North America Certified list
Porsche Motor Car of North American Authorized List
BMW of North America trained & Certified equipment list
Monday - Friday   7:30am - 6:00pm
Saturdays By Appointment Only
Main: 415-551-9700
24 Hour Call Service:
Because Accidents Don't Always Happen During Normal Business Hours
180 12th Street, San Francisco, California  94103
europeancollision.com
Main: 415-551-9700